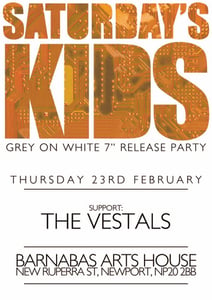 £

5.00
A party to celebrate the release of Saturday's Kids Grey On White 7" on Art For Blind Records.
For this we've managed to find a new space that's hardly been used for shows before... the Basement of Barnabas Arts House in Newport.
Also on the bill:
The Vestals
Effort
Barnabas Arts House
New Ruperra St,
Newport
NP20 2BB
Very Limited space so if you want make sure you get in pick up a ticket....The last time we did a show in a weird venue (Saturday's Kids show in the basement of Jacob's Market, Cardiff) it sold out & we had to turn people away...
Bring Your Own Booze!